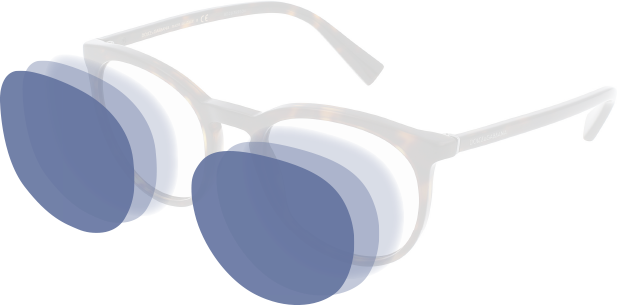 Lens replacement – Half rim frame
We advise to fit rimless and half rim frames with 1.6 index or above.
Standard index lens are brittle and more prone to cracking.
Includes free shipping, single vision lenses, and anti-reflective coating.
Did you damage your lenses, get a new prescription, or just want to get new lenses? Do you LOVE your frame and wouldn't dare think of letting it go?
Upon placing your order we will send you easy to follow directions for sending us your frame.

Step 1: Create your order by entering your prescription, material, and any additional coatings or treatments you want.

Get your pre-paid return box
Step 2: We will send you a postage paid box for you to use to send us your frame.

Step 3: Put your frame in the mailbox and get ready for new glasses!

Step 4: In 7 to 10 business you'll receive your frame back with shiney new lenses that will make you look and see better!
Delivery
Most orders placed for delivery in the United States are shipped from Mississippi and most orders placed for delivery outside of the United States are also shipped from Mississippi. Orders are usually shipped from these locations within 10 to 14 days from date of the order, depending on prescription type and other factors, and, as with all medical devices, your order is subject to government inspection, shipping delays, strikes and other unforeseeable events. Therefore timing of delivery, receipt of the order by you and other timing expectations might be delayed or impaired and orders can take longer than expected. We do not guarantee a specific delivery date.
30 Day Return
You will have thirty (30) days from the date of delivery of your order to return items included in the applicable order. If you are not satisfied with eyeglasses you have ordered from us, you may return those eyeglasses and you may elect to receive either (a) an exchange for an equal priced item, OR (b) a one hundred percent (100%) refund, returned to your credit card. You must call us to obtain a return authorization (RA) number before returning your order. The refund will be issued to the credit card used on the preceding order for which store credit was issued. Accessories other than eyeglasses that are unused and in their original condition can be returned for a one hundred percent (100%) refund.
Manufacturing and Other Defects
If your eyeglasses have a manufacturing defect you must return them within thirty (30) days of the date of delivery of your order and we will replace them at no charge. In addition, you will have one year from the date of delivery to return eyeglasses with defects in the anti-reflection (AR) coating and Transitions (photochromic), we will replace these eyeglasses at no charge. We are not responsible for damage caused by customer wear and tear.
If you are returning your eyeglasses because of a manufacturing defect, you must contact customer service by phone at 888-501-5011, by email at info@specsforvets.com, to get an authorized return. No returns are accepted without an authorization. Customer service will send you a box containing a return authorization form and return shipment label. To receive a replacement order, glasses must be returned in their entirety (frames, lenses, eyeglass case, etc.) in the box provided by Superior Optical Lab and the form included must be filled out in its entirety. Include a copy (not the original version) of the prescription as written by the doctor, as well as a brief description of the reason for the return. Copies of the order or invoice will not be accepted in lieu of a copy of the prescription.

Full rim frames come with lenses fully outlined within a metal or plastic frame. They are the best type of frames to highlight your eyes as nothing grabs more attention than the full-bodied look.
Full rims can accommodate large and thick lenses along with being the sturdiest out of the three frame types. It can withstand frequent accidental drops which is ideal for people with inclination to sports or active lifestyle.

Half-rim frames denotes those where lenses are covered only by top rims. You can emphasize the upper portion of your eyes wearing half rim eyeglasses to create more sophisticated look.
These type of frames are typically lightweight, perfect for those who wear their glasses for long periods of time. Another benefit being due to the comfort they provide.